17 Books to Celebrate Hispanic and Latine Heritage
---
---
Hispanic and Latine Heritage Month is September 15th to October 15th! Scholastic is celebrating with books centering Hispanic and Latine voices, experiences, and joy that will resonate far beyond a single month of the year.
To celebrate Hispanic and Latine heritage in your classroom, explore this list of popular fiction and nonfiction titles handpicked by our editors, including picture books, novels, and biographies. Whether you teach young elementary school students or middle school, there is something for everyone on this list.
You can find all books and activities at The Teacher Store.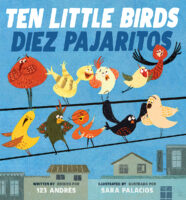 BOARD BOOKTen Little Birds / Diez PajaritosGrades Pre-K$6.74$8.99ADD TO CARTSAVE TO WISHLIST
The popular song from 123 Andrés' Latin Grammy Award-winning album is cleverly and beautifully brought to life in this bright, bouncy board book! Each of the 10 birds is given a fun and silly personality, and children will love to follow along as each flies away — and escapes a lurking kitty!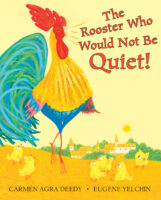 HARDCOVER BOOKThe Rooster Who Would Not Be QuietGrades K – 2$13.49$17.99ADD TO CARTSAVE TO WISHLIST
La Paz is a happy, but noisy village. A little peace and quiet would make it just right. So the villagers elect the bossy Don Pepe as their mayor. Before long, singing of any kind is outlawed. Even the teakettle is afraid to whistle! But there is one noisy rooster who doesn't give two mangos about this mayor's silly rules. Instead, he does what roosters were born to do. He sings: "Kee-kee-ree-KEE!"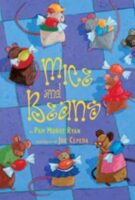 PAPERBACK BOOKMice and BeansGrades 1 – 3$4.49$5.99ADD TO CARTSAVE TO WISHLIST
Loveable little mice are planning their own party in a book that concludes with a special message: "When there is room in the heart, there's room in the house, EVEN for a mouse."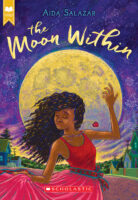 PAPERBACK BOOKThe Moon WithinGrades 3 – 7$5.99$7.99ADD TO CARTSAVE TO WISHLIST
The Moon Within joins the Scholastic Gold line, which features award-winning and beloved novels. Includes exclusive bonus content! Celi Rivera's life swirls with questions. About her changing body. Her first attraction to a boy. And her best friend's exploration of what it means to be genderfluid. But most of all, her mother's insistence she has a moon ceremony when her first period arrives. It's an ancestral Mexica ritual that Mima and her community have reclaimed, but Celi promises she will NOT be participating. Can she find the power within herself to take a stand for who she wants to be?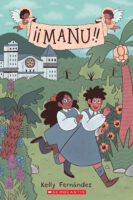 PAPERBACK BOOKManuGrades 3 – 7$9.74$12.99PRE-ORDERSAVE TO WISHLIST
Manu and her best friend, Josefina, live at a magical school for girls, and Manu is always getting into trouble. The headmistress believes that Manu has the potential to help people with her magic, but Manu would rather have fun than fall in line.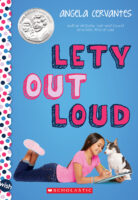 PAPERBACK BOOKLety Out Loud: A Wish NovelGrades 3 – 7$5.99$7.99ADD TO CARTSAVE TO WISHLIST
Lety Munoz sometimes has trouble speaking her mind. Her first language is Spanish and she likes to take her time putting her words together. When the shelter needs a volunteer to write animal profiles, Lety jumps at the chance. But grumpy classmate Hunter also wants to write profiles – so now they have to work as a team. The two create a secret competition to decide who will be the official shelter scribe. Can Lety find her voice before it's too late?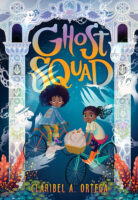 PAPERBACK BOOKGhost SquadGrades 4 – 7$5.99$7.99PRE-ORDERSAVE TO WISHLIST
Shortly before Halloween, Lucely and her best friend, Syd, cast a spell that accidentally awakens malicious spirits, wreaking havoc throughout St. Augustine. Together, they must join forces with Syd's witch grandmother, Babette, and her tubby tabby, Chunk, to fight the haunting head-on and reverse the curse to save the town and Lucely's firefly spirits before it's too late.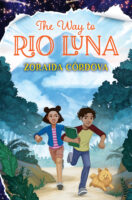 PAPERBACK BOOKThe Way To Rio LunaGrades 3 – 7$13.49$17.99ADD TO CARTSAVE TO WISHLIST
Eleven-year-old Danny Monteverde believes in magic. He knows that pixie dust is real, that wardrobes act as portals and that rabbit holes lead to Wonderland. Most of all, he believes that his older sister, Pili, is waiting for him somewhere in Rio Luna, the enchanted land in their favorite book of fairy tales. As his adventure takes him from New York to Ecuador to Brazil, Danny learns that meeting your favorite characters isn't always a dream come true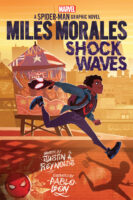 PAPERBACK BOOKMiles Morales: Shock WavesGrades 3 – 7$9.74$12.99ADD TO CARTSAVE TO WISHLIST
Miles Morales is a normal kid who happens to juggle school at Brooklyn Visions Academy while swinging through the streets of Brooklyn as Spider-Man. After a disastrous earthquake strikes his mother's birthplace of Puerto Rico, Miles springs into action to help set up a fundraiser for the devastated island. But when a new student's father goes missing, Miles begins to make connections between the disappearance and a giant corporation sponsoring Miles' fundraiser. Who is behind the disappearance, and how does that relate to Spider-Man?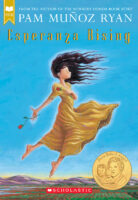 PAPERBACK BOOKEsperanza RisingGrades 5 – 6$5.99$7.99ADD TO CARTSAVE TO WISHLIST
Pam Muñoz Ryan eloquently portrays the Mexican workers' plight in this abundant and passionate novel that gives voice to those who have historically been denied one.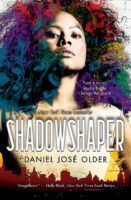 PAPERBACK BOOKShadowshaperGrades 11 – 12$7.49$9.99ADD TO CARTSAVE TO WISHLIST
Sierra Santiago planned an easy summer of making art and hanging out with her friends. But then a corpse crashes the first party of the season. Her stroke-ridden grandfather starts apologizing over and over. And when the murals in her neighborhood begin to weep real tears… Well, something more sinister than the usual Brooklyn ruckus is going on. Sierra discovers shadowshaping, a thrilling magic that infuses ancestral spirits into paintings, music, and stories.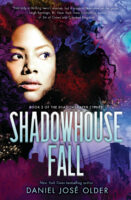 PAPERBACK BOOKThe Shadowshaper Cypher: Shadowhouse FallGrades 10 – 12$7.49$9.99ADD TO CARTSAVE TO WISHLIST
Thrust into an ancient struggle with enemies old and new, Sierra and Shadowhouse are determined to win. Revolution is brewing in the real world as well, as the shadowshapers lead the fight against systems that oppress their community. To protect her family and friends in every sphere, Sierra must take down the Hound and master the Deck of Worlds . . . or risk losing them all. Mature content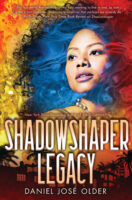 HARDCOVER BOOKShadowshaper LegacyGrades 9 – 10$14.24$18.99ADD TO CARTSAVE TO WISHLIST
A war is brewing among the different Houses, some of Sierra's shadowshapers are still in jail, and the House of Shadow and Light has been getting threatening messages from whisper wraiths, and even though one spy was exposed Sierra is not quite sure who she can trust but the deal with Death made by one of her ancestors has given her power, and she will need to control it and confront her family's past if she has any hope of saving the future.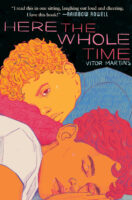 HARDCOVER BOOKHere The Whole TimeGrades 9 – 12$14.24$18.99ADD TO CARTSAVE TO WISHLIST
Felipe can't wait for winter break: Finally, he'll get some time away from the classmates who tease him incessantly about his weight. But Felipe's plan turns upside down when he learns that Caio, his neighbor from apartment 57, will be staying with him for fifteen days. Which is a problem because (a) Felipe has had a crush on Caio since, well, forever; and (b) Felipe has a list of body image insecurities and absolutely NO idea how he's going to handle them while sharing a room with his lifelong crush.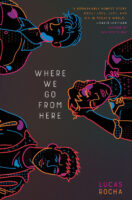 PAPERBACK BOOKWhere We Go From HereGrades 9 – 12$14.24$18.99ADD TO CARTSAVE TO WISHLIST
Set in Rio de Janeiro, Brazil, this utterly engrossing debut by Brazilian author Lucas Rocha calls back to Alex Sanchez's Rainbow Boys series, bringing attention to how far we've come with HIV, while shining a harsh light on just how far we have yet to go.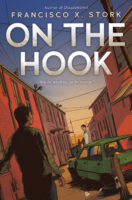 HARDCOVER BOOKOn the HookGrades 7 – 12$13.49$17.99ADD TO CARTSAVE TO WISHLIST
Hector has always minded his own business, working hard to make his way to a better life someday. He's the chess team champion, helps the family with his job at the grocery, and teaches his little sister to shoot hoops overhand. Then there is a  violent confrontation that places Hector in situations that he never expected, including a reform school where he has to live side-by-side with his enemy, Joey. It's up to Hector to choose whether he's going to lose himself to revenge or get back to the hard work of living.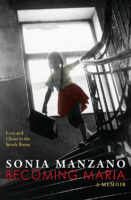 PAPERBACK BOOKBecoming MariaGrades 9 – 11$7.49$9.99ADD TO CARTSAVE TO WISHLIST
Set in the 1950s in the Bronx, this is the story of a girl with a dream. Emmy award-winning actress and writer Sonia Manzano plunges us into the daily lives of a Latino family that is both loving and troubled. This is Sonia's own story rendered with an unforgettable narrative power.